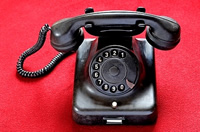 Lynn is available via phone for those who need a remote session, within the U.S. or Canada.
Please know that a telephone session is performed in the same manner as an in-person session.  Lynn connects to spirit in exactly the same way, the only exception of course is that you are not face to face.
Pricing
Individual Sessions
A free digital recording is provided, via email, upon request, and can be saved to a USB port or disc.  Please note the original recording is deleted after 30 days.
15 minutes = $40
30 minutes = $80
45 minutes = $120
60 minutes = $160
Two Person, Same Session
30 minutes = $120
60 minutes = $200
Order A Session